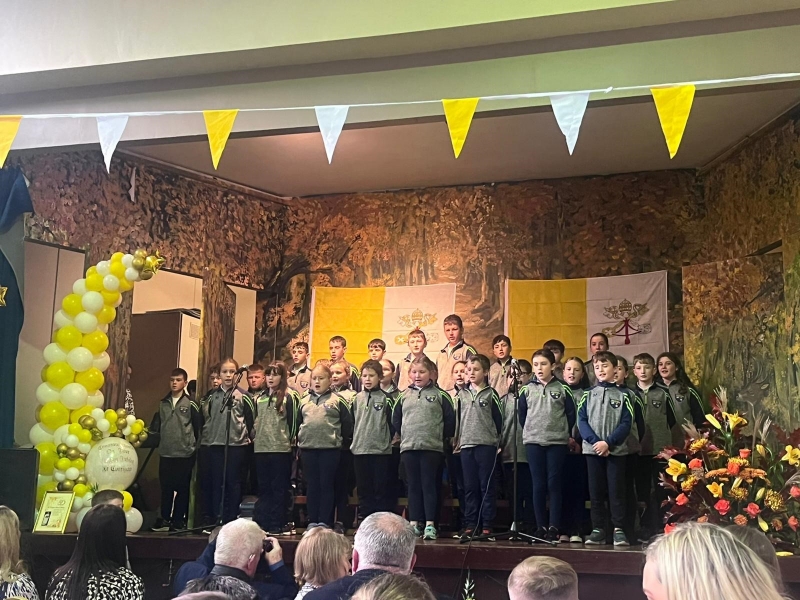 Fr Corrigan's Golden Jubilee
The people of the parish gathered together on Sunday 9th October to celebrate Fr Corrigan's Golden Jubilee with a thanksgiving mass and entertainment in the Acorn Centre with refreshments. The pupils from 3rd to 6th Class sang beautifully and boogied the evening away. We were so proud of their energy and enthusiasm that created a celebratory atmosphere in the centre. Well done boys and girls. Fr Corrigan we would like to congratulate you again on an outstanding achievement.
Fr Corrigan you came to Latnamard to teach us how to pray,
To understand the word of God and to guide us along the way.
This task you accepted graciously without a question why,
The Lord chose you to share the love that comes from God on high.
Our school masses, celebrations and the sacraments that we share
Have taught us how to be ourselves and showed us that you care.
Throughout the years we have enjoyed our projects with the heritage group,
Not forgetting cross country and running with our Track and Field troops!
The Lord chose well when choosing you and fifty years now done,
So many pupils have prospered and in faith how they have grown.
Thank you Fr. Corrigan, you've served so willingly
Congratulations, now let's celebrate this your Jubilee.