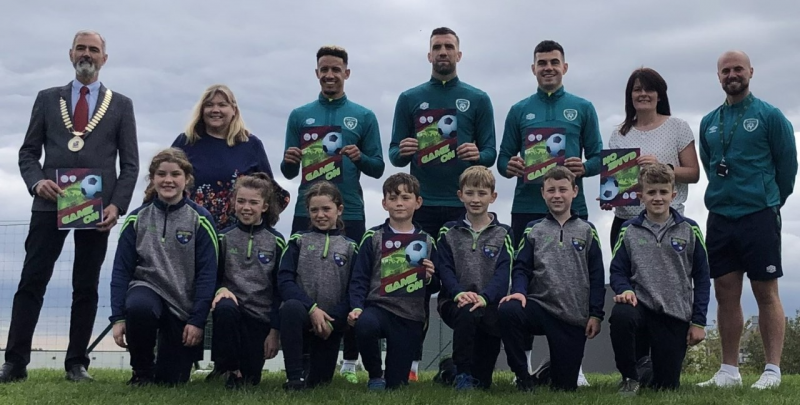 Launch of 'GAME ON'!
On Monday 19th September our 5th and 6th Class pupils travelled to FAI headquarters for the launch of a new activity book. The pupils were fantastic, listened quietly during the training session, greeted the team and represented our school excellently. We are delighted to have been given the green light in sharing the news of the launch of this new activity book. We would like to thank Monaghan County Libraries, Monaghan County Council, FAI and a special word of thanks to Amanda Mc Carville for this opportunity. A historical day that we were delighted to be part of.
Football activity book launched in Monaghan
Wednesday, October 26, 2022
The Football Association of Ireland and Monaghan County Libraries have joined forces on a pilot project to produce a football themed activity book for schoolchildren aged 10-14 years old.
The project is aligned to the national Right to Read Programme to promote literacy and reading development for people of all ages and backgrounds. By utilising the popularity of football and the impending World Cup, and launched by members of the Senior Men's International team, the activity book has been developed to assist teachers in the classroom and provide an educational resource for parents and guardians at home.
The activity book contains many different activities that covers a range of subjects including English, Irish, Mathematics, History, and Geography which are all delivered via the game of football.
The cross-curricular nature of the activity book was a key aim of the project to assist teachers in the classroom and align to the desired learning outcomes of the targeted age group.
Upon release, the aim for the project is for all 5th and 6th class pupils in the 61 primary schools in Monaghan to receive a hard copy of the activity book while also catering for First Year in Post Primary Schools as part of the JCSP Literacy Programme.
As the FAI continues to work towards achieving its strategic objective of engaging 75% of primary schools by 2025, Ger McDermott, FAI Grassroots Director said: "This is a fantastic example of local bodies working closing with the FAI to achieve a fantastic resource which will benefit the local community as a whole. It was also great to welcome schoolchildren from Monaghan at a recent Ireland Senior Men's Training session where they met the team and had photographs & autographs. We're looking forward to seeing the success of the book and tracking the benefits it will have for schoolchildren in Monaghan."
Speaking about the pilot project, Cormac Moussally, FAI Programme Coordinator for Schools and Third Level Football said: "This pilot project has been a hugely rewarding piece of work to be involved with and Monaghan County Libraries have been first-class to deal with. This activity book will capture many young children's attention and encourage them to engage with different elements of their curriculum by viewing it through the spectrum of football. This type of work will only benefit us as an Association and grow our ability to engage with Primary and Post Primary Schools through more than physical programmes."
Deirdriú McQuaid, Monaghan County Libraries Senior Executive Librarian further explains: "One of our main aims is to promote literacy and reading development for people of all ages and backgrounds through a wide range of initiatives as part of our Right to Read Programme. This is a collaborative cross-government initiative that provides a nationally coordinated framework for literacy support and reading development in all local authorities. We hope that this exciting new collaboration with the FAI is the beginning of many more similar projects not only with us but with the wider Library community across the country."
In attendance were representatives of Monaghan County Libraries Deirdriú McQuaid and Amanda McCarville, Cathaoirleach of Monaghan County Council, Cllr. Sean Conlon alongside students from Latnamard National School, Republic of Ireland Men's International players and Cormac Moussally, FAI
The activity book is expected to be released this week to all Schools in County Monaghan.